Bennett, Dr Lindsay
Radar Instrument Scientist
University of Leeds

Fairbairn House

71-75 Clarendon Road

Leeds

LS2 9PH

I am a Radar Instrument Scientist in the Atmospheric Measurement and Observation Facility (AMOF) and am responsible for the operation of the mobile X-band radar (NXPol). The radar has been deployed in 5 major projects since 2012 (COPE, SESAR, ICE-D, RAINS and RAIN-E) primarily focussing on the development of precipitation within convective clouds and the measurement of surface rainfall. My role involves planning the deployment and operation of the radar as well as maintenance of the system and data management.

I have been based at the University of Leeds since 2003, where I did my PhD in the Institute for Climate and Atmospheric Science (ICAS), followed by a post-doctoral position. My research focussed on using multiple ground-based instruments, including radars, to analyse the development of convective showers and thunderstorms. I joined NCAS in 2011 and my role now is primarily project management, coordinating the NXPol operations, facilitating the use of the radar in research projects and collaborating with other scientists on the data analysis.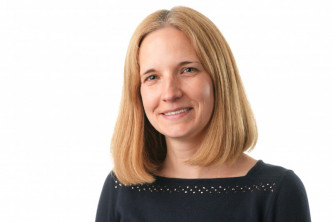 Engagements
Invited speaker for a meeting of the Yorkshire Centre of the Royal Meteorological Society. Lindsay gave a talk on her participation in VORTEX2, a USA-led field campaign during spring 2009 and 2010 to investigate how tornadoes form. It was an open meeting where the audience consisted of both academics and members of the public., November 2010
Invited speaker for a meeting of the North-West Centre of the Royal Meteorological Society. Lindsay gave a talk on her participation in VORTEX2, a USA-led field campaign during spring 2009 and 2010 to investigate how tornadoes form. It was an open meeting where the audience consisted of both academics and members of the public., January 2011
Wrote a short article on a thunderstorm event in Leeds for the BBC's Wild Weather Week, September 2010
Accuracy check of descriptions of tornadoes, hurricanes and floods for the Natural History Museum's website., February 2010
Careers Event for Year 9 students at the Cooperative Academy of Leeds, March 2011
Careers Day for triple science GCSE students at the University of Leeds, June 2011
Visit to primary school science week to give talks on being a scientist, March 2011
Hosted a small group of GCSE students on a visit to the University of Leeds. Described to them about working in scientific research and my involvement in past field campaigns. Discussed and provided advice about their intended science project to launch a camera and other instruments on a weather balloon., January 2012
I participated in the OPAL Weather Roadshow at the York Railway Museum on 9th March 2012. I helped with various demonstrations about the weather to groups of school children. , March 2012
I demonstrated the FGAM mobile radar to undergraduates in the School of Earth and Environment during the ICAS "Behind the Scenes" event. , April 2012
I demonstrated the FGAM mobile radar during an Open Day of the School of Earth and Environment., June 2012
I gave a talk at the Saltaire Festival as part of a session titled "Extreme Planet: To the Ends of the Earth". The talk discussed my participation in past field campaigns and my current research involving the FGAM mobile radar., September 2012
I was a guest speaker at Burn Gliding Club, the airfield site used by the FGAM mobile radar for testing and local observations. I gave a talk about how the radar works, why we are using their airfield and the future research involving the radar. , December 2012
Leeds Festival of Science. I took the mobile radar to two schools as part of a "Weather Roadshow", a 2 hour workshop introducing school children to weather observations and forecasting. , March 2013
I was a guest speaker at Burn Gliding Club, to present another talk on the mobile radar. I gave an overview of the COPE field project. December 2013, December 2013
Demonstrated the mobile radar to students and staff of the School of Earth and Environment during the "Behind the Scenes" event on 14th November 2013., November 2013
I helped produce a leaflet that was on display and handed out to members of the public during the Convective Precipitation Experiment (COPE) in Cornwall during July and August 2013. The leaflet gave an overview of the project, its science and aims, and descriptions of the instruments deployed in the local area. , June 2013
Invited speaker for a meeting of the South-East Centre of the Royal Meteorological Society. I gave a talk titled "A new mobile radar to help improve forecasts of flash flooding", with a focus on the COnvective Precipitation Experiment (COPE). It was an open meeting where the audience consisted of both academics and members of the public. , November 2013
Radio interview with Paul Hudson, a weather presenter and climate correspondent for BBC Look North in Yorkshire and Lincolnshire, on tornadoes and flooding. , January 2014
Visit to Shadwell Primary School to talk to the pupils about storms, tornadoes and flooding. I spent the whole day talking to each year group about my work as a weather scientist and the impact of severe weather., January 2014
Ran a "weather workshop" for the Leeds Festival of Science at the University of Leeds. 4 classes of 30 students in Years 7-9 participated in a 2 hour session using demonstrations to explain how clouds form and their importance for producing severe weather. The students were shown different instruments used to observe clouds and rainfall, including the NCAS Mobile Radar., April 2014
After-dinner talk presented to the Leeds Elmete Rotary Club describing the Convective Precipitation Experiment (COPE). , April 2014
External seminar speaker for the School of Environmental Sciences at the University of East Anglia. Talk titled "A new mobile radar to help improve forecasts of flash flooding", with a focus on the COnvective Precipitation Experiment (COPE). , November 2013
Participation in a STEM day at Horbury Academy. I ran 3x1hr weather workshops with demos of how clouds and tornadoes form and various instruments used to measure the weather, including the NCAS mobile radar. , July 2014
Invited speaker for the RMetS Student Conference opening session. Talk titled: The NCAS Mobile Radar. Also participated in a panel discussion where the students could ask questions following the introductory talks., July 2014
Took part in the Science Fair at the Saltaire Festival, doing some weather demos - including cloud in a bottle, tornado in bottle, weather station and radiosondes., September 2014
Presented a 45 minute talk on the Convective Precipitation Experiment (COPE) to the Hull and East Riding Astronomical Society., October 2014
I gave a 20 minute presentation and demonstrated the AMF mobile radar during an Open Day of the School of Earth and Environment, June 2014
Crofton Academy STEMfest. Four 1-hr sessions talking about thunderstorms and tornadoes, using interactive demos. Also demonstrated instrumentation including weather stations, radiosondes and the NCAS mobile radar., December 2014
Presentation to the Leeds Rotary club on 27th February 2015 titled "Improving forecasts of heavy rain and floods", describing the past, present and future research on convective clouds and rainfall., February 2015
Participation in the ICAS "Weather and Water" event during the Leeds Festival of Science, using demonstrations to illustrate processes in the atmosphere., March 2015
Volunteer for the Royal Meteorological Society at the Royal Horticultural Society's Harlow Carr Gardens during their half term "Whatever the Weather" event. This involved making windsocks and weather charts with children of mainly primary school age and their families. , February 2017
Careers afternoon at Spring Bank Primary School in Leeds. Four KS2 (Y3-6) classes each spent 30 minutes exploring various careers by moving around the hall talking to each provider/professional about their jobs. , June 2016
Participation in the School of Earth and Environment "Weather and Water" workshops during the Leeds Festival of Science, using demonstrations to illustrate processes in the atmosphere and ocean., March 2016
Participation in the School of Earth and Environment "Weather and Water" workshops during the Leeds Festival of Science, using demonstrations to illustrate processes in the atmosphere and ocean., March 2017
NERC Into The Blue Participated on the NCAS-AMF stand engaging families in all things weather and made "cloudy rainbows" (weather crafts) with children. Represented the Royal Meteorological Society, showcasing the 2016 Weather Photographer of the Year shortlisted entries and winners, and promoting the activities of the Society., October 2016
Great Yorkshire Show - collaborated with BBC Yorkshire to showcase two Terrific Scientific demonstrations: 'Cloud in a Bottle' and 'Lemon Volcanoes'. , July 2017
"Whatever the Weather" - Half-term family activity at Harlow Carr RHS Garden, Harrogate. Supported the Royal Meteorological Society making weather crafts and doing weather-related activities with children., February 2017
Talked to Year 3 at Spring Bank Primary School in Headingley, about my job as a meteorologist, for their Wild Weather theme this term. Showed photos and animations about radar, storms and tornadoes. Did the "cloud in the bottle" and "tornado in a bottle" demonstrations., January 2018
Visited Year 3 at St Joseph's Catholic Primary School in Keighley to talk to them about my job as a meteorologist, for their Wild Weather theme this term. I showed photos and animations about clouds, making observations with radar, and talked about storms and tornadoes. We also had fun doing the "cloud in the bottle" and "tornado in a bottle" demonstrations to illustrate some of the science. , January 2019
Visited Year 3 at Spring Bank Primary School in Headingley to talk to them about my job as a meteorologist, for their Wild Weather theme this term. I showed photos and animations about clouds, making observations with radar, and talked about storms and tornadoes. We also had fun doing the "cloud in the bottle" and "tornado in a bottle" demonstrations to illustrate some of the science. , January 2019
Participation in the School of Earth and Environment "Weather and Water" workshops during the Leeds Festival of Science, using demonstrations to illustrate processes in the atmosphere and ocean., April 2019, April 2019
Invited back to talk to Year 3 again at Spring Bank Primary School in Headingley about my job as a meteorologist, for their Wild Weather theme this term. I showed photos and animations about clouds, making observations with radar, and talked about storms and tornadoes. We also had fun doing the "cloud in the bottle" and "tornado in a bottle" demonstrations to illustrate some of the science. , January 2020
Visited Year 3 at Spring Bank Primary School in Headingley to talk about being a meteorologist, for their Weather theme this term. I showed photos and animations about clouds, making observations with radar, and talked about storms and tornadoes. We also had fun doing the "cloud in the bottle" and "tornado in a bottle" demonstrations to illustrate some of the science. , January 2023